Edited by: Maren Mantovani for the Palestinian Grassroots Anti-Apartheid Wall Campaign (Stop the Wall)
Translation to English: Michael Loomis (with the support of Isabel)
Editing and proofreading: Paul Kohlbry, Reginald Goveas, Chandni Desai, Rachelle Friesen, Jessy Hampton and Josie.
Technical support: Mallory Knodel.
Copyright CC BY-NC-SA under Creative Commons: Palestinian Grassroots Anti-Apartheid Wall Campaign (Stop the Wall)
---
A special thank you to:
All those that have worked to contribute to make this reader possible. A special thanks to Loles Oliván Hijos, Bea Morales, Sinfo Fernández Navarro, Germano Romano, and to the SodePaz team and their patience. Thank you to Barbara for her support in the project. A thank you as well to all those that have given the impulse to the idea and have helped to shape it on the way.
---
Supported by: SODEePAZ and Donosti/San Sebastián.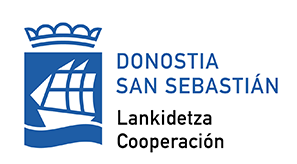 ---
About the Palestinian Grassroots Anti-Apartheid Wall Campaign (Stop the Wall)
The aim of the Campaign against the Apartheid Wall is aligned with the Palestinian desire for liberation, for those of us who are in our homeland and in exile, the young and old, those who have died, and those who are still to be born. We are a grassroots movement uniting the struggle of the popular committees in the villages, refugee camps and cities struggling against the Wall and the settlements and build alliances within Palestinian civil society and global social justice movements. The immediate objectives of the Campaign against the Apartheid Wall have been sanctioned by the decision of the International Court of Justice on the legal consequences of the construction of the Wall issued on 9 July 9 2004 and are the following:
The immediate cessation of the building of the Wall.
The dismantling of all parts of the Wall and its related zones already built.
The return of lands confiscated for the path of the Wall.
The compensation of damages and lost income due to the destruction of land and property in addition to the restitution of land.